OLD CODGERS

The first 10 years of John's working life, from 1960 - 1970, was spent at television station HSV7, Melbourne, These were great times as Tv, had only started in 1956. In 2002,

| | |
| --- | --- |
| retired HSV7 old timer Donald Smith organized a reunion of "Old Codgers" It was a big success. Annual | |

reunions have followed, each time attendance's increasing. Now a number of members have put together a CD of photo's of the reunions, plus a collection of historical photos of the early days.

| | |
| --- | --- |
| Recently, ex-channel 7 staff member Harold Aspinal sent a copy of the CD to the KHO. I was so inspired by | |

these old photos, I decided to write a memoir of the period from my perspective. Photos were augmented by others from the internet. We acknowledge these suppliers of photographs. Harold Aspinall, Russell Bourne, Richard Bence, Dick McEwan, Dick Jones, Graham Foster, Don Smith, David Perry, John Walters & Wilma Gray, wife of the late Ted Gray.

Episode 1

John Logie Baird

John Logie Baird was born on August 13th, 1888, in Helensburgh, Dunbarton, Scotland and died on June 14th, 1946. The television pioneer created the first televised pictures of objects in motion (1924)

| | |
| --- | --- |
| the first televised human face (1925) and a year later he televised the first moving object image in London. The BBC | J.L. Baird |

started broadcasting television on the Baird 30-line system in 1929.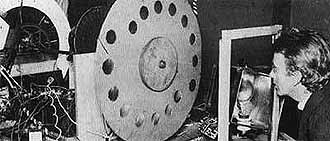 Baird's first mechanical television
In July 1930, the first British Play was transmitted, "The Man with the Flower in his Mouth. " The world's first regular transmissions using the electronic Marconi-EMI, 405 line system started in England in 1936.

Early ad for Baird Tv kits

The "Logies"

The annual Australian Television awards are called the "Logies"

| | |
| --- | --- |
| in honor of John Logie Baird. The name was suggested by the "King" and first star of Australian | |

Television, Graham Kennedy.

How it worked

| | |
| --- | --- |
| The scanning wheel, consisted of 2 identical scanning wheels drilled to create a scan of the object. | |