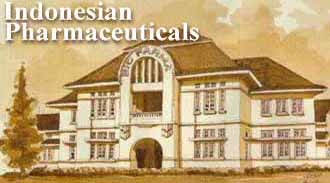 The Historical Bio Farma Building - Jl Pasteur, Bandung
Indo Bird Flu Vaccine

Government owned Bio Farma is the only vaccine and serum manufacturer in Indonesia and is being considered by the U.S. drug manufacturer Baxter Healthcare to produce a human vaccine for bird flu. Indonesian Health Minister Siti Fadilah Supari - said she hoped a deal could be signed before January, said "We will co-operate as long as Baxter agrees to make a vaccine for the Indonesian strain" The strain has killed 9 people in Indonesia. Scientists fear the virus could mutate into a form that could start a pandemic.

The embryonic form of this national pharmaceutical company has existed since the Dutch colonial rule. Established in August 6, 1890, under the name of Parc Vaccinogen or Lands Koepok - Inrichting, subsequently known as the Pasteur Institute, at that time the company occupied the area of Weltevreden army hospital in Batavia, now Jakarta. The company moved to Bandung in
1923, occupying an area of 93,200 square meters. Animal breeding for laboratory purposes was established at Cisarua-Lembang on an area of 282,411 square meters.

Staff in Colonial Times

Following the nationalization of all former Dutch colonial companies, series of changes have occurred within the company. In 1978, by virtue of the Government Regulation No 26, the company obtained the status as a public utility company. By virtue of the Government Regulation No 1 in 1997, it became a limited company, known as PT Bio Farma (Persero), located in Bandung, West Java.

Production Workers

The Laboratory of Virology was established in 1995, it has played important role in viral disease survey in Indonesia, especially Polio, Dengue and Hepatitis B. WHO assigned Bio Farma Laboratory of Virology at the Laboratory for Polio Eradication, and has performed well during the recent mass immunization of Indonesian children.

Bio Farma - Polio Vaccine

Bio Farma now has WHO Qualified status achieved through Bio Farma's consistency in strict international standard quality control and quality assurance allowing Bio Farma to export and earn hard currency for Indonesia.
First export was to North Korea, 221,200 vials in 1997. Then they exported 2.5 million doses of polio vaccine to India in 2000. Now exports extent to many countries including Malaysia, Philippines, Sri Lanka, Bangladesh, India and the Ivory Coast.